In the past, tracking the status of a case could take a lot of your valuable time. Now, with our online portal and our mobile app, you can enter prescriptions online, and all the information about your case is instantly accessible from your mobile device whenever you need it.
Every DDS Lab customer can register with our online portal free of charge.
Registering is quick and easy. Use the button below to sign up:
Once you've registered, you will be able to use our online portal and our mobile app. Our app is downloadable on the App Store and at Google Play.
What Happens Once You Register with the DDS Online Portal?
Once you have registered, your dedicated Account Manager will contact you and send you your login details. With these details, log in to MYDDSLAB.com. After successfully logging into our system, you can easily to navigate to "Prescriptions."
Entering Your First Prescription
Once you have navigated to Prescriptions, select the right type of prescription. Options include Crowns and Bridges, Orthodontics, Implants, and Removable appliances. Next, enter your patient's prescription, and our step-by-step form will guide you through the entire process, ensuring that we have all the information required.
Once you are satisfied with the information provided, finalize the prescription. It is now in our system, even before we have received the impression. You can print or save the prescription to easily add it to your patient's file.
The Benefits of Registering with the DDS Portal
If you have yet to register, you could be missing out on some significant benefits for your dental office. These include:
Quicker turnaround times
Elimination of prescription errors with our step-by-step form
Ability to track your case's progress online at any time of day or night
Ability to review our report and score as soon as we receive and evaluate your impression
Email confirmations when we receive a case and regular case updates, so you always know what is happening with your work
Well-organized records of your patient's prescription in our system
Securely stored information is securely that always protects the patient's privacy
What Happens Once a Case is in Progress?
Once your prescriptions are entered into the online portal, you can view their status in real-time either in the portal or on a single screen using our mobile app.
In our mobile app, the list is displayed by patient names, and the status of each open case is clearly indicated with a color-coded label.
The labels include:
Received, QC (Quality Control), Fabricating, Shipped, or Please Contact Lab.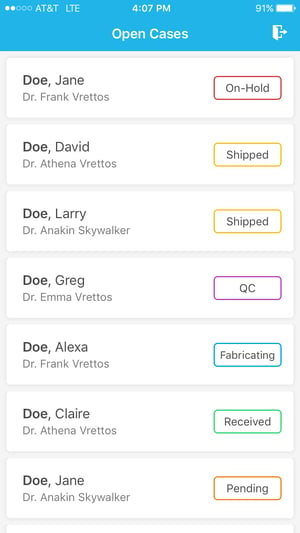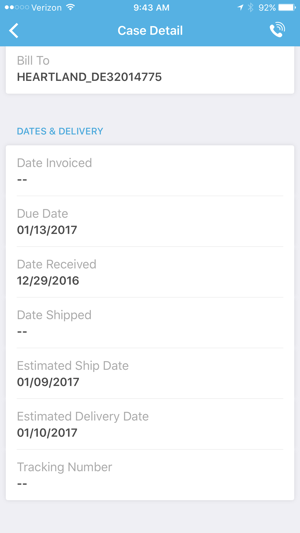 Click on the patient's name for more detailed information, including the estimated shipping and delivery dates. If you see the "Please Contact Lab label", use the phone icon at the top right-hand side of the screen to call your dedicated Account Manager and quickly to solve any queries about a case and reduce delays to completion.
Below is a visual guide that walks you through the process step-by-step:


Please be reminded that should you wish to discuss a case in more detail, our experienced technical team is here to assist you.
Click here to schedule a consultation with our technical team »