Over the past decade, there have been significant changes to the materials commonly used within the dental industry. The introduction of newer and more innovative materials has helped meet the need for products that are both durable and satisfy the growing public demand for improved esthetics. There are also an increasing number of clinicians who are interested in materials that are highly biocompatible and suitable for use in a minimally invasive dentistry.
These newer innovations in dental technology have led to closer collaboration between dentists and laboratories. Not so long ago, every restoration had to be supported by existing teeth and was either made from base, semi-precious or precious metal alloy, or would be a PFM. While PFMs are still popular, it is now generally accepted that ideal esthetics are best achieved with metal-free restorations.
Two of the most popular metal-free materials used today are lithium disilicate and zirconia. These newer materials help push the boundaries, allowing technicians to create strong and durable restorations, even when only minimal space is available. Metal-free restorations can often be thinner as there is no need to mask a metal substructure with opacious porcelains. By selecting a pre-shaded metal-free material, the substructure can be regarded as being part of the layering process.
Lithium Disilicate
The best-known lithium disilicate is Ivoclar's E.max, which has dominated the market for the past decade. Over the years, the material has evolved considerably. Ivoclar has introduced newer and more translucent materials that more closely replicate the opalescence and fluorescence found in natural teeth in addition to its pressable ceramic range. The advantage of this material is its bonding capabilities combined with excellent strength. This enables it to be used in minimally invasive dentistry, as it can be utilized as an inlay or onlay, and super-gingivally.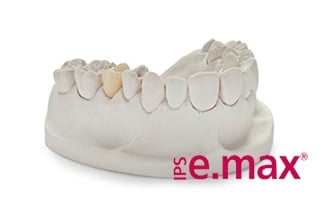 Zirconia
Zirconia is another material that is increasingly used that offers superior strength compared to lithium disilicate. Its ability to mask the existing stump shade of a natural tooth often makes it a highly-esthetic choice. When originally introduced, zirconia was only produced in its natural white color which would then have to be masked with opacious porcelains, resulting in restorations that lacked the esthetics required for anterior teeth. Today, zirconia is pre-shaded and the technology used to produce the material has changed considerably, enabling it to be manufactured in a way that is more translucent, allowing the particles to be significantly smaller. The smaller grain size reacts more like natural tooth structure, meaning that light bends less when it passes through the material which increases the overall translucency.
Newer and More Esthetic Denture Materials
Newer materials have been introduced for use in removable prosthodontics. The ability to stabilize a full denture with relatively few dental implants holds significant appeal to patients unable to afford more complex solutions. Many dentists are finding implant-supported complete and partial dentures to be a growing part of their practice. With the introduction of newer and more aesthetically appealing denture materials, patients wearing conventional dentures may become more aware of the need for more frequent denture replacements.
Our skilled technical team is always more than happy to discuss the suitability of certain materials for specific cases. We feel confident our extensive technical knowledge will help you make the right choice for your patient's needs.
Schedule a consultation with our materials expert Bill Warner here »